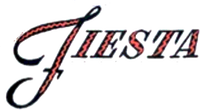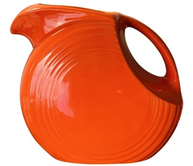 Fiestaware brought color and style to the dinner table in late 1930 by the Homer Laughlin China Company in West Virginia.
​Many people will remember having these brightly colored ceramic dishes on their dinner tables and some may even remember their mother's coveted collection of mixed colored serving ware lovingly displayed on a shelf.
​Pitchers, fruit bowls, sauce boats, egg cups, carafes, footed salad bowls, relish trays, casserole dishes.
Fiesta Ware covered it all, bringing bright splashes of color to the dining room. The range of colors allowed for people to mix and match sets to their liking. The bright variety of colors and simple art deco design was a big hit. In the first two years of production more than a million pieces were made. 
The craze all started with the infamous "radioactive red." From 1936-1943 they used a small amount of uranium oxide to create the red color. Luckily in 1943, the U.S. government took control over all uranium oxide for developing nuclear weapons during World War ll, which was great because the use of uranium oxide made the ceramics RADIOACTIVE! Unfortunately, after the war they went on to use depleted uranium oxide, which still may be radioactive, all the way until 1972! 
So be careful of the radioactive red if you ever come across it! But the other colors were safe; Fiestaware was released in: cobalt, light green, yellow, old ivory, turquoise, forest green, rose, chartreuse, gray, medium green, antique gold, and turf green.

​After 7 decades of producing simple, art deco styled ceramics the craze wore off. There were many more American dinnerware companies on the scene making wide ranges of designs and styles. After 37 years of colorful production the Homer Laughlin China Company retired the line. 
But the story doesn't stop there, since Fiestaware was a part of so many people's lives during the mid 20th century, there was a strong feeling of nostalgia for those pieces for people coming of age in the later 1970s and 1980s. People started coveting the discontinued, vintage, Fiestaware. This created a strong resell value, some individual pieces going for hundreds of dollars.

​The market for Fiestaware was hot again! So hot that the company decided to bring the line back! In 1986, the 50th year anniversary, five colors were released: rose, black, cobalt, white and apricot. From there minor changes in clay and glazes were made so that the plates would be lead free, lighter and more durable, but still all made in America. 
Now only 15 colors are available at one time. A new color will only be released when one is retired and completely sold out. They do this because the Homer Laughlin China Company loves the collectors culture around the Fiestaware. They do special releases for the serious collectors and support the annual conventions.

​ What they won't stand for are copycats. In 2002 Target released a line of ceramic dinnerware that looked extremely similar to the Fiesta line and even packaged in a similar style. The Homer and Laughlin company immediately sued Target and won a few years later! This was no doubt a little boost to once most collected dinnerware in America. Fiestaware is still being produced and in only new colors, the company will not take any colors out of retirement.